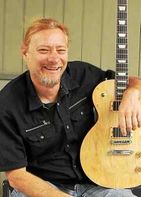 KENNETT >> The torch is being passed at the Pro Musica music school founded by Leon Spencer and Fred Biondi in 1995.
Daran Amos, 46, a teacher at the school since the early years, will take the reins on Jan. 1, 2018, although, he said, Spencer and Biondi will still spend some time teaching there.
Amos, whose passion is guitar, has taught hundreds of students at Pro Musica over the years, and said he ius proud to have guided 37 of them to music majors or musics schools in that time.
On Saturday, he held a well-attended recital of his guitar students at Anson B. Nixon Park and said they were superb. "They nailed it," he said, adding that one mother was even brought to tears as she saw her son perform.
Amos grew up in Wilmington and started taking music lessons at age 14. By age 19, he said, he was touring with a band all over the East Coast.
When he started out with Pro Musica, he had two students. He's now up to between 52 and 60 students a week, and at least seven of them are adults. When he was asked what older adults say when they approach him for lessons, he said they often tell him, "I've always wanted to play a guitar."
And that is appropriate, he said, because today's Baby Boomers grew up with Jimi Hendrix, the Beatles and a host of singer-songwriters.
For Amos, music is a passion. He said when he gets up in the morning, he feels almost as if he is on vacation when he has teaching lessons on his schedule.
He is committed to offering lessons scheduled for a month at a time and hopes his students will take their music seriously. He also wants to help those who want to pursue music as a career understand how to understand the business of music.
His current goals are to have a senior class and to train people to play together in a band.
Pro Musica started out in a small shop along Union Street in Kennett Square and then moved to the ground floor of the old firehouse on South Broad Street. For years now, it has operated out of a studio on North Walnut Street.
Pro Musica teaches Guitar, Vocals, Drums, Bass, Woodwinds, Banjo, Ukulele, Alto Sax, Piano and Percussion.